Marketing Mayhem – The Torn and Frayed Edition
Every time I put a show together, one of the things on my todo list is "Create eye-catching postcards and fliers". I have an internal dialogue with myself when I sit down with Photoshop to knock out a couple of ideas. Should I make something that is readily identifiable as "Marc Moss", and stick with it? Sort of a "brand recognition".
So far, I have resisted this, and instead experiment with something new each time. It seems more fun to me that way, and I get a feel for what "works", and what doesn't.
While thinking about postcards and fliers, I have found a method that helps me hone the concepts I want to use in presenting myself. I keep a little notebook of other people's postcards that I've found "works". Every time I go to an art opening, or some other event that has postcard shwag, I'm sure to grab one to throw into my little notebook. Then, when it comes time for me to design my postcard or flier, if I'm feeling uninspired, I just flip through the book.
Do you have any tricks that help you when designing a flier or postcard? Let me know in the comments.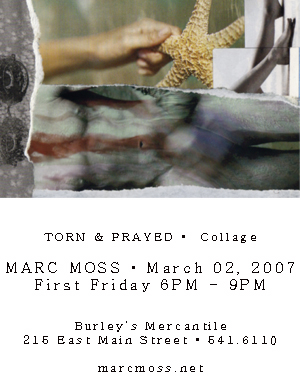 Technorati Tags: marketing, art exhibition, postcard, flier