Big Sky Documentary Film Festival 2009 – Day 1
Originally uploaded by BigSkyDocFF
Thriller in Manilla Directed by Joe Dower, 2008

I was too young to remember the details of these fights when they aired, but remember them being on TV.
I never realized how much of an asshole Ali was, betraying his friend after Frazier supported him for years when he couldn't box. Ali was the most barbaric poet in the world – rasicst and mean to his friend.
Ali did say, afterwards, that he said some things he shouldn't have. That doesn't make up for the damage done to their friendship. A well-told story using interviws and archival footage.
We are Wizards, Directed by Josh Koury, 2008
Never having read the Harry Potter series, I wasn't really sure what to expect from this film. Its main focus was on Wizard Rock, with bands like Harry and the Potters in the forefront of the movement. The film also delved into the Harry Potter boycott, started by a 16 year old girl who ran a fan site on the interwebs that was sent a cease and decist letter by Warner Brothers.
I really enjoyed the film as it took me into a world I'd never experienced before, and erased preconceived notions about what a Harry Potter fan is.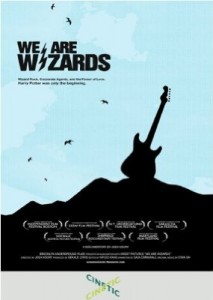 Omen, Directed by Oksana Sokol, 2007
Cinemetography really captured the movement of the art as it is being made. Watching the flow of the paint as it came out of the can, listening to the words of the artist – very inspiring.
Number One With a Bullet, Directed by Jim Dziura, 2008

Well told story about gun violence and its consequences. Anti-gun without being preachy.
Some things I scratched in my notebook as I watched: "Violence begets violence."
Tupac compared to JFK, Martin Luther King, John Lennon.
"Hip hop doesn't show this" (from a doctor in a hospital emergency room.)
I'm live blogging the festival as I experience it via Twitter.  Find me there, I'm @marcmoss.
See you in the theatre.