Burning Man – Decompression
All day we had driven in the heat. The driver's side window will not roll down.
We crawled through the darkness in line, passing the frybread taco stands in Gerlach, NV. inching along. We started in line around 12:50AM and arrived finally at the gates around 5AM. I was exhausted. I got out of the car, joyfully hugged the greeter who welcomed me home, and deliriously rang the bell for Burn virgins. We snaked through the brightly almost-full-moon-lit playa to the camp @ Cock-N-Waffle @ 7:45 and Adapt. We parked and were greeted by Rooster. I was glad to be out of the car. The Ooonst music was going full force over at Tetris, and all I wanted to do was pee and sleep.
Roos showed us around in the dark and got us situated. I needed to pee. I knew logically how the city is layed out, but realistically, never having been there, delirious from sleeplessness, needing to have one of my basic needs met, I couldn't put it together. I needed to pee. Telling me how the city is layed out was not helpful, just get me to a Port-a-Pot. I crumbled. Black Rock City had already broken me and I wasn't even in the gates for an hour. I collapsed into Joyce's arms and sobbed like a baby from exhaustion & anxiety.
I slept.
I slept well.
I slept well considering the barrage of thumping bass coming from the camp behind us over @ Tetris.
And I awoke and we set up the shower. We worked all day in the hot sun and we set up the shower and the graywater evaporation system.  And I was a part of this community.  Me, an outsider, my first Burn, and I'm a part of it. This was Joyce's 7th Burn. It's the first full day & I'm trying to figure it out & I fell into the work that needed to be done to make our camp run smoothly.
The Cock-N-Waffle is a hospitality camp.  We serve waffles for breakfast to anyone who drops by.
We provide massages and fresh fruit and music and love to all who enter our camp. And we have a bus.  Oh, yes, we have a bus.  The Ghetto Gypsy.  The bus was lovingly worked on by many members of the Cock-N-Waffle over the course of the entire year, and featured original artwork on the ceiling in panels, done by many local Missoula artists.  The outside of the bus featured some beautiful graffiti done by a local graffiti hero, Echo.  But the centerpoint was the sound system and the lightboard.
The lightboard originally was conceived as a streaming LED system
that could be controlled by a computer.  Unfortunately, time and money did not allow for this to happen, so we were limited to eight characters that needed to be changed out by hand.  The most family-friendly thing we posted on the board was LOVELUST, and it could be seen for miles on the playa at night.  I'll let you scour the interwebs for other, more colorful postings.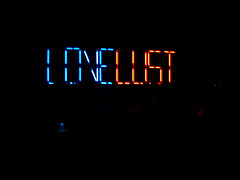 ;-)
Over the course of the next 6 days, I would see and experience things of beauty that I cannot express and do them justice. The art cars! The Man! The Temple! (Oh, my God, the Temple.) The art, the creativity. And the city!
The things I saw and experienced were unbelievable.
Of course, there was The Man himself, whose burning was a wild party in great contrast to the reverent burning of the Temple the following night.  From the simplicity of the Cubitron to the contemplative and transformative time spent at Memortrees, I was glad that I opted to, for the most part, leave my camera tucked away from the dust and participate. I climbed a tree, I played putter golf. I ate great food.  I rode my bike. I learned how to adapt, how to dance again & how to let go of expectations. Experience. Be here now.
The playa was a huge art playground.
We tromped up the huge slide called The Wedge, laughing and giggling in our free-fall. We looked out over the lights of the city in a spinning frenzy on The Teeter Totter of Death, we had quiet moments at the top of a mobile Ferris wheel and watched dramatic sunrises in the deep playa. We mourned lost loved ones at the Temple and fire walked through the remaining embers and flames together after the Man burned.
And there was no commerce, save buying ice. If someone did not have enough food or water, someone else would provide for him without question. The atmosphere of love and altruism was ever-present, and I realized that one of my challenges is to bring that spirit back out into the "real" world.  I try to be cognizant of this, and often, I fail. But without failure, there is no growth, and no chance to learn. So I learn. Every day, I learn.
A huge part of the experience was, of course, The Cock-N-Wafflers.
They were amazing – all of them. Each in their own way, they all contributed to the camp and everyone made me feel welcome. They we all took care of each other, shared stories, laughs, food, and formed lifelong friendships. Sure, there were stresses, and we overcame them together. Aboo.
Joyce 
was the reason I was out on the playa in the first place. She helped me adapt to my new surroundings with understanding and tenderness.  We learned how to better communicate with each other, how to give each other space, and how to better trust one another. We stayed up all night exploring the playa together, watched the sunrise, slept till noon, fell in love again and again, and grew together as a couple and as individuals. We explored with wide-eyed curiosity and artistic hunger.  We worked hard to complete the graywater system*, with help from Noel, before arriving in BRC, and stood it up in what I felt was record time.
*(And it worked like a charm. There were about 30 of us in the camp. We had showers almost every day, washing dishes twice a day, and only 10 gallons of un-evaporated water on the final day, which we had sucked out by the port-a-potty guys.)
And the art! There was so much of it.
And all of it free to be experienced and viewed by all. It really got m thinking about the directions I want to take my art – both in what I make, and in how it is consumed. Should I sell it? Should I donate it for sale to worthy causes? Should I give it away? Can I approach my art with a combination of these ideas?   These are questions that I am still asking myself, and still answering. I, and my art, is in an evolutionary process, one that will never end, and one that excites me like I've not been excited about my art for a long time.
Collected photos of Burning Man – 2009 – Evolution – 1 and 2